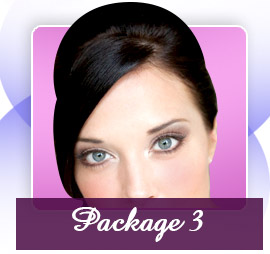 $350 Package
* Hair Color
(Cut and Conditioner Treatment included)
* Spa Pedicure with Design
* Full Set of nails with Design
* Facial
* Makeup
* Eye Brow Threading
* "Up Do"
(Including Hair Accessories)
Total Values: $425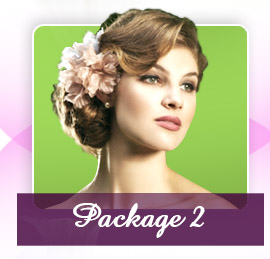 $200 Package
* "Up Do"
(Including Hair Accessories)
* Makeup
* Eye Brow
* Regular Pedicure & Manicure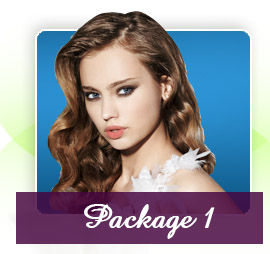 $150 Package
* "Up Do"
(Including Hair Accessories)
* Makeup
* Eye Brow
Testimonials
What They Say

I was thrilled to find Milla's online today - I called & was seen right away. Immediately, I felt right at home, like I'd been a client for years. I felt so at ease & so well taken care of. Diana gave me a full color & cut, and I went so far as to have Christina (I think I have her name right??!) do permanent eyeliner for me. I am so pleased to have a found a family owned & operated salon, with women who care & took care of me. I never felt like they were trying to "sell" me anything - rather, they listened to my likes & dislikes - and suggested a service they could provide. On top of it, the price is right on. I cannot say enough good about how I felt while I was there - and I've been staring at my hair & eyeliner all day. Thank you Diana & Christina! And everyone at Milla's!
I first visited Millas Salon sometime in 2002 to get my eyebrows threaded. The threading of the eyebrows was new to me & I had complimented a friend on her eyes & she referred me to Milla & I have been going ever since. She also does my haircut & style which I always get compliments on- her hands are like MAGIC- she truly creates beauty!!! The prices are more than resonable. My 2 sisters also get their eyebrows, haircuts & facials @ Millas & both live in the East valley it is well worth the drive. Milla & her daughter Diana are both very very gifted stylist!!!
Been a customer for 15+ years!!!!! Millas is like family and Diana is amazing at threading my eyebrows! I HIGHLY recommend them!
I've always loved the quality of the color and highlights, cuts and styles I've gotten here, but now I have a new reason to love Milla's. A week and a half ago, Christina did permanent eyeliner for me, and I am overjoyed. People I know stop and look at me to figure out what's different. I haven't worn eye makeup for years because of allergies. I've got my "wow" back. Their prices for permanent makeup are reasonable, too. Friends who've had procedures done before we're impressed with the quality of the work, and amazed at what I paid for it. Look out, Milla; my friends may be headed your way!
Been going there more than ten years... love it...
I found my new hair n all that salon.. ...
Good morning!!!! I'd just want to give my best compliments to the esthetician. I had most fabulous facial on Friday, August 2nd. Milla had recommended the hydra refining facial for my skin condition. The treatment replenished my skin. It was enriched with vitamins, moisturizers, masque and the hand massage was very relaxing. I think was snoozing and snoring during the facial. It was just that relaxing and luxurious. Thank you very much. I will be back very soon. Warmest regards,